Meaningful Milestone's ENRICH Team members, Beth and Jessalynn, share some exciting updates on what's happening around the clinic in June 2022.
Transcript:
- Hey, everyone. It's your ENRICH team back again with some updates about what's going on at MM.

- First of all, we want to give a huge shoutout to Katie Brophy, who recently passed her board exams to become a BCBA.

- That awesome! We also want to give a shoutout to Judy Morrison, who just passed her certification to become a Certified Professional Compliance Officer.

- That's great! You know, Jessalynn, this time last year, we had seven BCBAs. And, as of today, we have 12.

- Whoo! Round of applause. It's so exciting to see the growth we're having at MM. And the really great part is that, with new BCBAs, means we get to have some new clients come in. But we need some interventionists to join us. If you know of someone who's looking for fun work environments, please send them our way. Have them reach out or anything like that. We'd love to get to know them a little bit better.

- That's right. And things on campus have really gotten busy since school's been out. It's been so fun to see all of our kids that were here last summer, and I think they've all grown like a foot.

- Yes, for sure.

- It's been awesome to see their growth and their progress over the school year.

- You know what the end of school year means, also? Summer time.

- Yes.

- What's your favorite thing to do in the summer, Beth?

- I don't think it'll be any surprise to anybody that floating in my pool

- Yes.

- in the summer is my favorite thing to do. How about you?

- I would say probably the same. I'd love a nice little invite, here, once in a while, but, you know, I can get to know my neighborhood pool a little bit better, too.

- Yeah. Well, you know, the first official day of summer is next Tuesday.

- Nice.

- The 21st. And we're gonna have some special activities on campus for our kids, some water play and some fun things like that to celebrate the start of the summer season.

- Awesome. That sounds like so much fun. June 21st is also National Selfie Day. So everyone get your selfies ready to post in your teams. Also, we'll have a place for you to drop them down in our Facebook page.

- That's right. So make sure you check out, next Tuesday, our Facebook. June is a really busy month around MM. In addition to all the things we've already talked about, BHCOE is gonna be on-site for our recertification process. And we are super excited to meet our evaluator and to show all the amazing things that are going on at MM. Just a friendly reminder, to all of our staff and families, that you've received some surveys from the BHCOE. And we would greatly appreciate you taking a couple minutes to fill those out, if you haven't done that already.

- Many of you have also seen our social skills team out at community events. They've had a great time connecting with new people and seeing how awesome our clients are doing within the community. Monsters & Mazes social skills is starting very, very soon. We'll have new groups forming over the summer, and, if you need any more info, just visit our website or just reach out to Mona and Craig.

- That's right. I am excited to see how that goes.

- Me too.

- Craig's been working really hard on writing the stories for that.

- Yes, for sure.

- So it should be fun. Looking ahead a little bit, July 4th is Independence Day, and MM will be closed for all clinical services so that our staff and clients can enjoy the holiday.

- Yes, it'll be very nice for a little break. Speaking of July, our next spirit week is coming up in July, July 18th through the 22nd. So be on the lookout in your teams for the special fun days that we have planned coming up.

- You know, hat day is one of those.

- Yes.

- And I have my favorite hat all ready to go.

- I can already imagine it. I'm sure you can. That's all we have for this month. It's been great getting you caught up on all things going around MM. We'll see you back next month for some more updates. Stay safe. Have a great month. And stay cool.

- [Jessalynn] Yeah. Bye.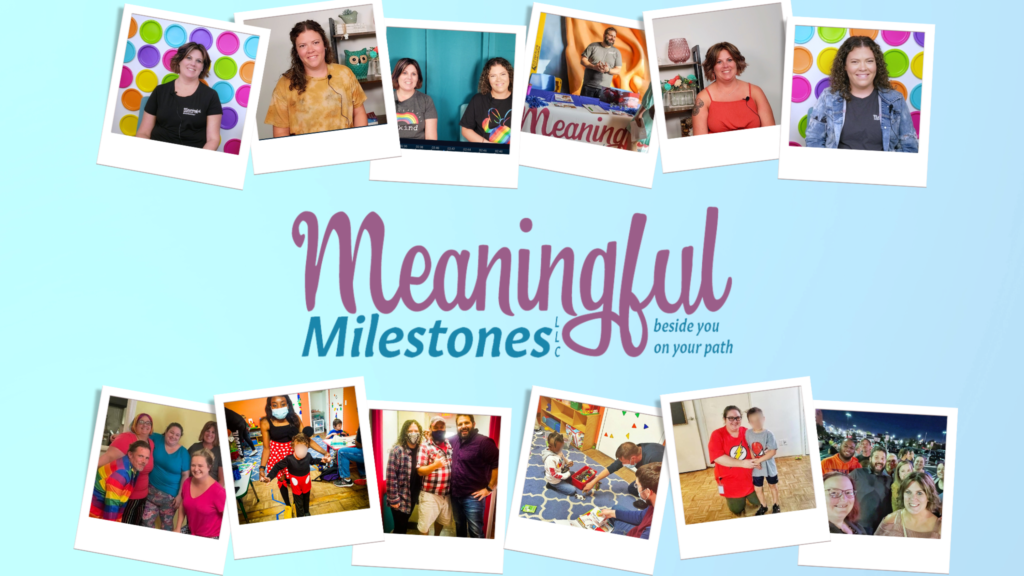 VIDEO LIBRARY
Learn More
View Meaningful Milestones videos, including monthly updates from our ENRICH Team, information about MM Programs, and videos about terms and concepts associated with ABA services by visiting our YouTube channel. Or check out our video library on this website.